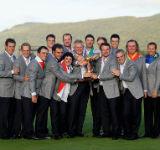 There is a lot of debate over what leadership is and what defines a real leader. The simple answer is this: look beyond the person at the front and see if anyone is following.
---
Having the support of key team members is essential to being successful in leading a team. It empowers you to make decisions with full knowledge that the rest will follow.
This is not to say that support from your team members is the only qualification for success, but it is certainly one of the most essential ingredients.
This will be of vital importance to Paul McGinley, the newly appointed European Ryder Cup captain for the tournament in 2014.
If we look back at past European Ryder Cup captains, in particular the victorious captains Colin Montgomerie (2010) and Jose Olazabal (2012), this theory immediately shines through.
Monty's proven ability to organise the team and create an environment for success engendered absolute trust, not just amongst the players, but also amongst his team of vice-captains, who acted as Monty's eyes and ears throughout the tournament.
Olazabal used a different approach, emotionally engaging with the team and channelling the spirit of the late Seve Ballasteros.
Both of these leadership styles provide an insight into how these captains managed to connect with the constituents of their team.
Olazabal and Monty managed to deliver success while in unfamiliar territory, leaving their clubs at home.
Rather than actively being part of the team, they had to adapt to a role of organisation and motivation, choosing when to control, when to consult and when to stand back and believe in the ability of the team.
The appointed captain Paul McGinley should look at the great captains that have gone before him. Whether in Monty's meticulous preparation or Olazabal's emotional engagement with the team, there are valuable lessons McGinley can learn.
On the other hand, it is important McGinley does not simply reproduce the methods used by previous captains.
To receive authentic support from his team memebers, he must find his own leadership style that is authentic to him. He should respond to his team members and the specific situation of next year's competition.
It is an early boon to McGinley's captaincy that world No.1, Rory McIlroy, has publicly announced support for his appointment.
But many challenges lie ahead, including McGinley's opposing US captain, the indomitable Tom Watson, and a Tiger with a few points to prove.
If he is to produce a third successive European win in 2014, McGinley will, at the very least, need the full support and unerring trust of each of his twelve selected team members.
See the BBC's take on McGinley's appointment or start building your leadership agenda for 2013 now.
---
See Khoi Tu speak at the RSA or follow his story on Twitter @buildsuperteams