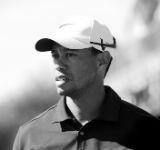 Sporting rivalries: the clash of incredible talent and ruthlessly competitive egos. Rivalries transform "games" into the "sporting events" - delivering the epic journeys we have delighted from throughout the years. We all engage in the theatre. Favourite or underdog, everyone picks a side.
From the classic team rivalries like England and Australia in the Ashes or US and Europe in the Ryder Cup, to the current pursuit for the title of "world's best" between Ronaldo and Messi or Murray and Djokovic - these rivalries become the personification of the sports we love.
However, for these rivalries to become truly "great", they must avoid becoming too cosy.
Take the case of the recent "bromance" between Tiger Woods and Rory McIlroy. If these two golfers are to become truly great adversaries - along the lines of Nicklaus-Tom Watson and Ben Hogan-Sam Snead - then they can't afford to become too acquainted.
---
Excerpt from Khoi Tu's CNN interview:
"As soon as you begin empathizing with your competitor, you may not have that killer instinct. Great sporting rivalries bring out the best in both players.
Great shared experiences build great bonds between people. That bond is different than friendship. It's a bond of respect.
If Rory becomes a genuine rival as opposed to the rival of the moment, then I think Tiger will find it hard not to compete in every dimension possible.
It's in his DNA, it's what makes him a great competitor. In many respects the best thing about it would be if they did become real rivals, if there was a sense of abrasion or friction -- a sense that sparks fly. It would do wonders for the sport."
---
It is vital that players recognize this difference. The ability to defeat your opponent and to play as well as you can, requires huge mental discipline... and getting too cosy may be a disarming distraction.
When rivals are on the same team, the competition and abrasion between members can also keep things from getting too comfortable and inject a vital creative energy. But as the Rolling Stones shows us [internal link] the sparks that fly and fuel creative energy need to be channelled to avoid burning the whole team to the ground. Internal rivalry needs to be balanced with the protocols that build trust and cohesion, the magnetic force that keeps teams together and focused on a common purpose even under enormous pressure.
A bit of bromance can keep the show on the road and a bit of edge can make that show interesting.
---
See the full article on CNN:
"Tiger-Rory 'bromance': Can sports rivals really be friends?"
---
What do you think? Do you think that players will inevitably lose their winning spark if they get too cosy with their competitors?
Leave a comment below or follow @Buildsuperteams on Twitter to share your opinion