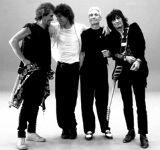 How do you meld chalk and cheese individuals into a world-beating group?
In Management Today, Khoi Tu explores how you put the magic into the mix - with a little inspiration from The Rolling Stones.
---
Extract from the article:
"Teamwork can sometimes be hit or miss - you're either on fire or a complete washout.
Actually, for most of us, it's usually somewhere in the mediocre middle. But it doesn't have to be this way - high-performing superteams do exist and you can learn great things from them.
In fact, I've discovered seven in all walks of life, including animation wizard Pixar, global aid agency the British Red Cross and sexagenarian rockers the Rolling Stones.
What do they know that the rest of us don't? And can we sprinkle some of their fairy dust onto our own less than super teams?"
Read the full article now: "How to create your very own super team: Lessons from the Rolling Stones"
---
This article was written by Khoi Tu, as an extract from his book "Superteams: The Secrets of Stellar Performance from Seven Legendary Teams".
All of the proceeds from the book will be going to the British Red Cross.
---
See Khoi Tu speak at the RSA or follow his story on Twitter @buildsuperteams